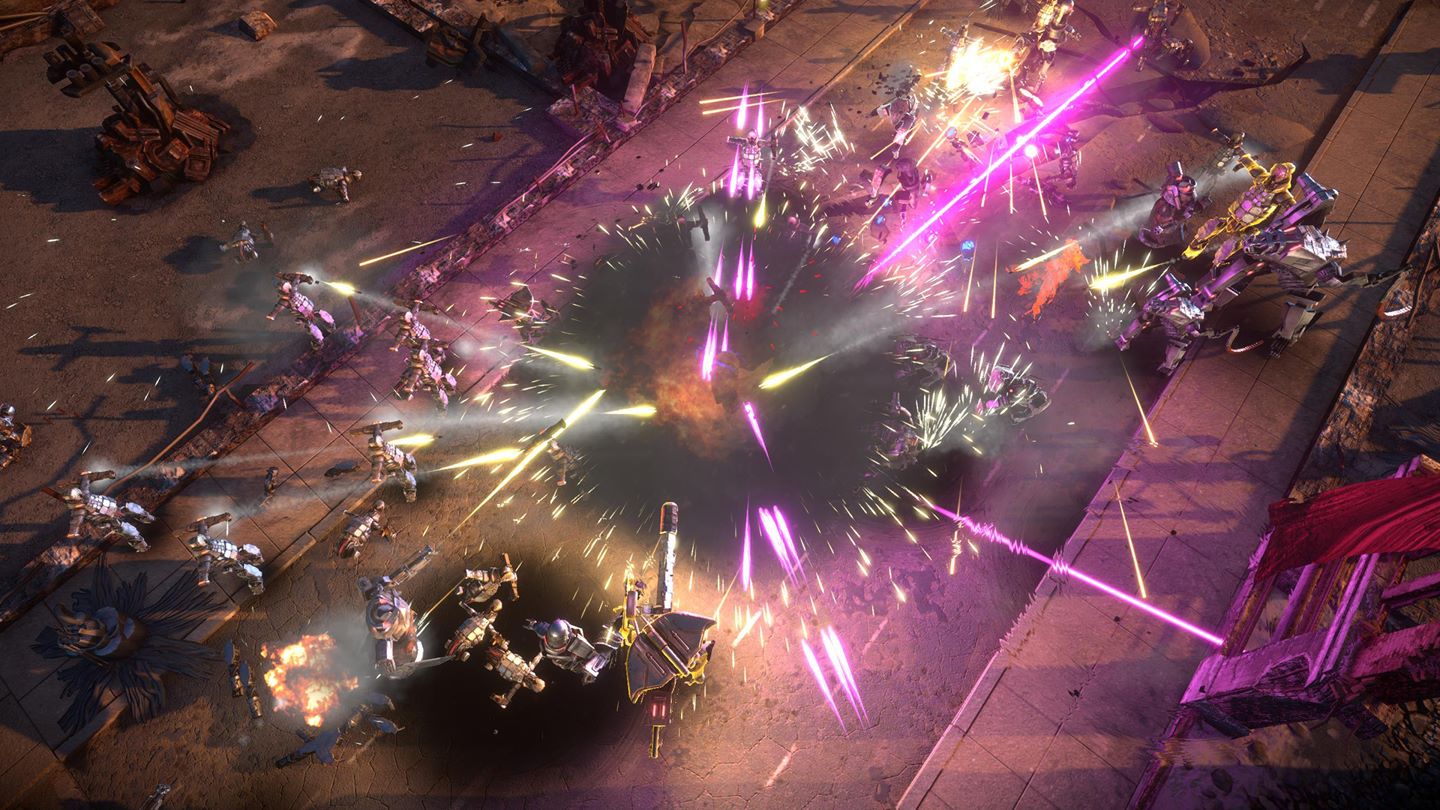 With just a few days left before the new month we have the next set of free games to announce. As always, both Xbox One titles are yours to play as long as you have an active Gold membership while the 360 games are yours to keep even if you drop to Silver. Both 360 titles will also be available to play on Xbox One through the backward compatibility program.
Kicking off the month is Prison Architect. This is a management simulation that puts you in charge of building and running, you guessed it, a prison. The second half of the month will feature Livelock. Livelock is a twin-stick shooter for up to 3 players as they defeat mobs of enemies.
| | |
| --- | --- |
| | Take control of the building and running of a maximum security prison as the critically acclaimed lock-em-up arrives on Xbox One! Your Design, Their Fate Will you build and manage a prison to create social order where it's failed in the past, offering rehabilitation and peaceful coexistence amongst inmates? Will your prison disregard human rights, impose intentional harshness and be devoid of any notions of wellbeing and freedom? The choice is yours. In Prison Architect you will see the impact of your grand design on the lives of your inmates; be it a utopic center for rehabilitation, a brutal Super Max Prison or anything in between. Even when all of your prisoners' needs are met, remember one thing – it's still a prison and no one really wants to be there. Start your journey into the world of Prison Architect by playing through the Prison Stories (campaign). Here you'll learn the ropes by being brought in to equip a small prison with everything it needs to perform its first execution, all before being called up to deal with emergencies at larger and larger prisons. You'll quickly learn how to cope with blazing infernos, hostage situations and prison wide riots – if you make it through all that unscathed, the Mayor will be ready to give you the reigns of a brand new prison development where you can build the prison of your dreams. Build and Manage A Maximum Security Prison Once you are ready to begin building your own prison, in Architect Mode (sandbox) you can either choose to take control of one of several pre-built prisons right away or build one entirely from scratch. Acting as both architect and governor, you control every detail of your Prison – from building new cells and facilities to hiring staff and creating reform programs – all while dealing with informants, contraband smuggling, gang warfare, full scale riots and more! Once your prison is built, go online with World of Wardens to share your designs with the community. You can also browse and play other Architects' prisons from around the world! |
| | |
| --- | --- |
| | Livelock is a co-operative top-down shooter where you play solo or with up to two allies to break the cycle of infinite war between machines. As one of the remaining Capital Intellects, your role is to unlock Eden and revive humanity. Take control of one of three mechanical chassis – Hex, Vanguard or Catalyst – to defeat intelligent mechanical enemies. Intelligent Action Overcome chaotic skirmishes where complete mastery of your arsenal and understanding of enemy behaviors is the key to survival. Three-Player Co-op Combine forces and coordinate with friends to take advantage of class strengths; each chassis has a distinct personality and arsenal to match. Infinite War Explore the post-cataclysmic world and attempt to revive humanity in Story Mode or fight through dynamically generated waves of enemies in Survival Mode. |
The 360 titles will start off with LEGO Star Wars III: The Clone Wars. Another LEGO version of the Star Wars Universe. Replacing that on the 16th will be Sega Vintage Collection: Monster World. A collection of three older titles, one of which had never been released outside of Japan.
| | |
| --- | --- |
| | Laugh your way through an all-new story that takes you through 16 different systems and experience brand new features like massive ground battles, boss fights, and multi-layered space combat. Expanded Force abilities, brand new weapons, characters, environments, and over 20 story-based missions make this the most action-packed LEGO game to date! |
| | |
| --- | --- |
| | Bring peace back to Monster World in these three classic action RPG titles: Wonder Boy in Monster Land, Wonder Boy in Monster World, and for the first time outside of Japan, Monster World IV! Now available for download on Xbox LIVE, the Monster World saga features all new achievements, challenging new trial modes, Xbox LIVE Leaderboards, and recordable and downloadable game sessions! |