This week we have a collection of holiday themed events, new maps, new content, and even a free trial for two big name games. There's also some updates, trailers and double XP periods going on so be sure to check it out. And don't forget about our own group news. There's a few things you may be interested to know about.

Other Gaming News
| | |
| --- | --- |
| | If you're a player who hasn't made up his/her mind on Call of Duty: Infinite Warfare, well starting yesterday and Ending on December 20th you can try a free trial of the game. Players can try out the first two levels of the campaign, "Rising Threat" and "Black Sky," and jump into multiplayer (with a level 15 cap) and the zombies mode (with a level 3 cap). PC players are, unfortunately, out of luck this time around. Not much but at least you can give it a go and see whether you'll buy it or not. |
| | |
| --- | --- |
| | On December 13 a new map titled Giant's Shadow was available for pre-order and Premium Pass customers. Along with that a new update released as well. To take a look at the patch notes check it out in our blog post. |
| | |
| --- | --- |
| | It seems like Blizzard Entertainment is in the holiday Spirit as well, introducing us with this brand-new seasonal event for a limited time only in Overwatch. Players can unlock some loot boxes that have some brand new items for your favorite character and many more things in this limited time Event. For more information feel free to check it out in our blog post. Along with that, Patch Notes 2.01 are live as well, and to take a look at some changes to your favorite character and etc… check it out right here. |
| | |
| --- | --- |
| | Gearsmas has arrived for the first time in Gears of War 4. While this year is a little light on the crazy XP bonuses from Gears games past, it's heavy on holiday-themed cosmetics, a special versus mode and some free goodies just for logging in. For more details on Gearsmas be sure to check it out in our blog post. |
| | |
| --- | --- |
| | Ubisoft announced it's hosting a free weekend for The Division on PC. From December 15 at 10AM PST to December 18 at 1PM PST, you can check out the full core game and all of its additional content (save for the paid Underground and Survival expansions). Should you decide you like the game and want to purchase the full version, all of your progress will carry over. |
| | |
| --- | --- |
| | If you're eagerly waiting for the third Walking Dead Telltale game then wait no more. Here's the launch trailer to hold you over until the December 20th release. |
| | |
| --- | --- |
| | Today, Ubisoft is showing its stationary gunner some love. To make him more useful, the developers have added a shield on the front of his turret to protect him from frontal headshots. To balance out this boost, they also added some spread and recoil to the turret. The Midseason Reinforcements update makes several other significant changes, including the addition of the long-requested Bartlett University map that was originally only used during the tutorial. Fuze is getting another cluster charge, Bandit has a fourth battery now, and Blackbeard is getting nerfed. For more information check it out in our blog post. |
| | |
| --- | --- |
| | Final Fantasy XV has been a very popular game since its release and to celebrate the holiday season, Square Enix will release a free game update and DLC for Final Fantasy XV next week, on December 22. The free update, which will be available to everyone, adds a "New Game Plus" option, allowing those who have already finished the main story to replay the game with all of their data carried over. For more details on the Free Game Update and DLC feel free to check it out in our blog post. |
| | |
| --- | --- |
| | Earlier this week DOOM received its third and final multiplayer DLC for the season pass. The new content includes a new demon to play as, three new maps, a thruster pack, a grendae launcher and even more. A double XP event even started and will run through the weekend. You can see it all here. |
| | |
| --- | --- |
| | For anyone playing Dishonored 2, there's an upcoming update that you might enjoy. On December 19th players will get a New Game Plus mode once they complete the story with either character. In this mode, you can use either Corvo or Emily with all of their abilities, including the ones exclusive to the other character. Collected Bone Charms and Runes will transfer over which you can assign to whatever you want. A second update will be coming in January that will add a mission select option and custom difficulty for making things more challenging. Both of these updates will be free so be sure to download them. |
| | |
| --- | --- |
| | Earlier this week a surprise system update for Xbox One rolled out to all owners. If you were wondering what it did, it was mostly a performance patch. The most notable was definitely the increase in download speed, depending on your connection speed, and a more stable rate of download over unstable connections. If you want to see if it helped your downloads then try it with the new Games with Gold that released today, or even the Infinite Warfare free trial mentioned above. |
Deals of the Week
Xbox One
Battle Worlds: Kronos – Gold Price: $8 – 60% off
Divinity: Original Sin – Enhanced Edition – Gold Price: $15 – 75% off
Dogos – Gold Price: $8.03 – 33% off
Dying Light: The Following – Enhanced Edition – Gold Price: $23.99 – 40% off
Farming Simulator 15 – Gold Price: $13.20 – 67% off
Letter Quest: Grimm's Journey/Three Fourths Home Extended Edition Bundle – Gold Price: $7.50 – 50% off
Mordheim: City of the Damned – Gold Price: $26.79 – 33% off
Mortal Kombat XL – Gold Price: $20 – 50% off
Octodad: Dadliest Catch – Gold Price: $3.75 – 75% off
Overcooked Holiday Bundle – Gold Price: $19.34 – 10% off
Prominence Poker – Boss of all Bosses Bundle – Gold Price: $59.99 – 40% off
Saturday Morning RPG – Gold Price: $7.99 – 20% off
Teenage Mutant Ninja Turtles: Mutants in Manhattan – Gold Price: $20 – 60% off
The Amazing Spider-Man 2 – Gold Price: $19.80 – 67% off
The Escapists: Supermax Edition – Gold Price: $25.19 – 20% off
TRANSFORMERS: Fall of Cybertron – Gold Price: $29.99 – 40% off
Xbox 360
Alien Rage – Gold Price: $2.99 – 80% off
Dogfight 1942 – Gold Price: $1.99 – 80% off
Enemy Front – Gold Price: $7.99 – 80% off
Farming Simulator 15 – Gold Price: $9.89 – 67% off
Spider-Ma:Dimensions – Gold Price: $9.99 – 50% off
Teenage Mutant Ninja Turtles: Mutants in Manhattan – Gold Price: $14.79 – 63% off
Teengae Mutant Ninja Turtles: Out of the Shadows – Gold Price: $4.94 – 67% off
The Amazing Spider-Man – Gold Price: $9.89 – 67% off
The Amazing Spider-Man 2 – Gold Price: $11.99 – 70% off
Transformers: Fall of Cybertron – Gold Price: $14.99 – 50% off
Announcements
We're happy to announce that you can now purchase merchandise featuring our group logo! There are T-Shirts in both long and short sleeve, a hoodie as well as a mug. Don't wait, these are only available in limited quantities and for a limited time. You can read the announcement for details on pricing and where to get it. Here's a sample of the shirt below. You have until December 26th to order!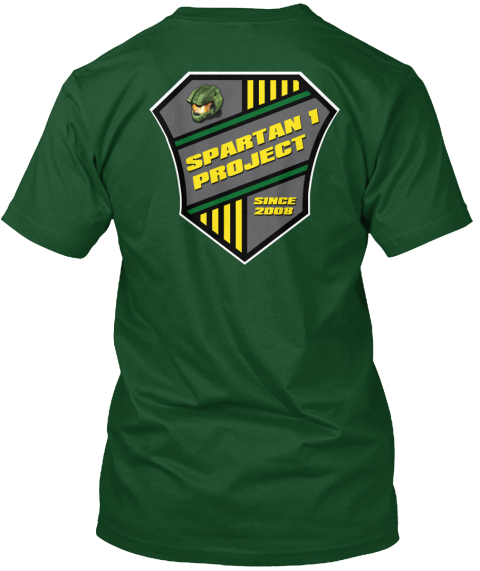 In other site announcements, we also introduced an update to the ribbon system. The gamerscore ribbons have been broken down into different pieces to be more manageable, instead of the growing collections they do each year. You can read the full announcement and see the new ribbons in the blog post.
News
Just a quick bit of news from the Communique. With the holidays coming up there will be no update next week, and possibly the week after. Just in case we're not back, everyone have a safe holiday and happy New Year!
Joinings
Neo will be running a Destiny Game Night. Anyone can jump in, just be sure to register in the joining thread. The game night kicks off tonight at 10 PM EST.
Contests
This is the last reminder you'll get from here. We're halfway through the month so be sure to get your pictures in for the screenshot contest before it ends.
Birthdays
$price$ – 10th
ContactTango – 12th
Galactic Pixel – 12th
Patrickg1212 – 12th
N2TheBreeze – 12th
Blastbeat Bill – 13th
RK667 – 14th
SMG Specialist – 14th
Shadowmeldt – 14th
Uberdobber – 15th
Darqam – 16th
Credits
This update features content written, found, or created by:
MrSerrano1105
Stig Assassin
To give feedback to the staff (complaints or suggestions), please e-mail thespartan1project@gmail.com.
*Title images created by wrcfan