This week saw several big updates. Halo 5 practically released a new game, Destiny sees The Dawn(ing) of a new event, PlayStation has a surprise game reveal, Ubisoft opens beta registration and Battlefield is getting a new… battlefield. We also have a large amount of SIP News featuring some new apparel, two contests and a chance to saw lizard creatures in half with friends. If you want to know more then read on.

Halo
| | |
| --- | --- |
| | A new update rolled out yesterday called Monitor's Bounty. In this update there were a large number of additions and changes including a new observer mode, active custom game search and hundreds of new forge objects. There's no short way of describing all of this. Click here and read through all three posts to see everything that was done with this update. |
Destiny
| | |
| --- | --- |
| | Starting this Tuesday Destiny will be premiering a new event they call "The Dawning." Part of this is the familiar Sparrow Racing League that we had last year, with some changes. A second surprise event is the new strike scoring mode. Players can get bounties from Zavala and tackle them in the featured playlists. Meeting some of the requirements will even give you a chance to earn the updated version of Ice Breaker. For all of the details you can read it here or get a short tease from the video below. |
Other Gaming News
| | |
| --- | --- |
| | Sony announced The Last of Us Part II on December 3, a sequel to Naughty Dog's 2013 post-apocalyptic shooter. Revealed at PlayStation Experience 2016, The Last of Us Part II trailer showcased an older Ellie from the original game playing guitar, as well as the return of Joel. For more information check it out in our blog post. |
| | |
| --- | --- |
| | Uncharted: The Lost Legacy is a new adventure in the series starring Chloe Frazer. The game will be offered as both a stand-alone title and as part of the Uncharted 4 season pass—though you only have until December 13th to purchase the season pass or the Digital Deluxe version of the game which comes with the season pass. For more details check it out in our blog post. |
| | |
| --- | --- |
| | Ubisoft has opened up entry into the Ghost Recon: Wildlands beta. We have no idea when it's going to happen, but you can register for a code through here. Thanks to Niner for letting us know! |
| | |
| --- | --- |
| | Star Wars Battlefront will be joining The Vault (EA Access) on December 13 and "Rogue One: Scarif" dropped today for season pass holders and will be available to purchase for everyone else after its two-week exclusivity period ends on December 20th. Along with that an update launched, to take a look at the patch notes check it out in our blog post. |
| | |
| --- | --- |
| | Telltale Games has announced that the fifth and final episode of BATMAN – The Telltale Series, titled Episode 5: City of Light, will be available to download on all platforms next Tuesday. Where you begin "City of Light" will vary depending on the choices made during the third act of "Episode 4: Guardian of Gotham". "Episode 5: City of Light" for BATMAN – The Telltale Series will be available to download on the Xbox One, Xbox 360 and Windows 10 on Tuesday, December 13th. |
| | |
| --- | --- |
| | Since the launch of DOOM, id Software has released four major content updates, bringing new features and modes to the game. You fought for the high score in Arcade Mode, captured your favorite gory glory kills in Photo Mode, and slaughtered the competition in Deathmatch. Free Update 5 launched on Wednesday, December 7 and can expect some new features. To see the list of Patch notes check it out in ourblog post. |
| | |
| --- | --- |
| | It's only natural for a rocket powered car to end up in space, right? With the new Starbase ARC update there is a new octagonal arena, space themed car and even more treats. Speaking of, now through January 2nd players can earn special holiday themed items like candy cane antennas or a 2017 glasses topper. Also be sure to check out the redesigned X-Devil and Gizmo cars. To find out more you can read the blog post. |
| | |
| --- | --- |
| | Developer Respawn has confirmed that it will offer Double XP for the game's multiplayer this weekend, beginning on December 9 and running through Sunday, December 11. |
| | |
| --- | --- |
| | Activision announced some holiday DLC bonuses for Call of Duty: Infinite Warfare and Modern Warfare Remastered today. To see what they have in store for you check it out in our blog post. |
| | |
| --- | --- |
| | DICE has shared some new details on the Battlefield 1 map Giant's Shadow, which will be released in December for free to all players. For more details check it out in our blog post. |
Deals of the Week
Xbox One
ABZU – Gold Price: $16.99 – 15% off
12000 NHL Points Pack – Gold Price: $66.99 – 33% off
2800 NHL Points Pack – Gold Price: $21.24 – 15% off
5850 NHL Points Pack – Gold Price: $37.49 – 25% off
Hue – Gold Price: $7.50 – 50% off
Shantae and the Pirate's Curse – Gold Price: $11.99 – 40% off
Solar Shifter EX – Gold Price: $5 – 50% off
Stikbold! A Dodgeball Adventure – Gold Price: $2.50 – 75% off
The Wolf Among Us – Gold Price: $8.25 – 67% off
Wand Wars – Gold Price: $8.99 – 25% off
Xbox 360
Foul Play – Gold Price: $2.49 – 75% off
Guncraft: Blocked and Loaded – Gold Price: $4.94 – 67% off
Jeopardy! – Gold Price: $5.99 – 80% off
Jeopardy! – New Clues Pack – Gold Price: $1 – 80% off
JUJU – Gold Price: $3.74 – 75% off
The Wolf Among Us – Season Pass – Gold Price: $4.94 – 67% off
Wheel of Fortune – Gold Price: $3.99 – 80% off
The Puzzle Pack – Gold Price: $1 – 80% off
News
We're happy to announce that you can now purchase merchandise featuring our group logo! There are T-Shirts in both long and short sleeve, a hoodie as well as a mug. Don't wait, these are only available in limited quantities and for a limited time. You can read the announcement for details on pricing and where to get it. Here's a sample of the shirt below. You have until December 26th to order!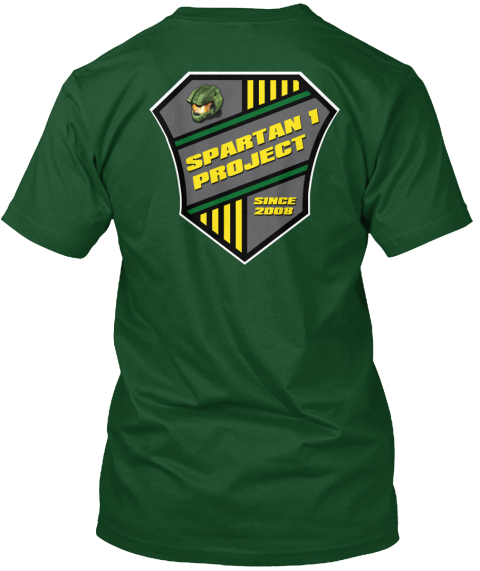 Joinings
Grab your lancer and get ready for battle. Tonight's joining will be in Gears of War 4. There's a limited amount of space so sign up soon if you want to join. The event will begin at 10 PM EST so register soon.
Contests
Over the month of November three members has a battle of beards. Only one has been left standing and crowned with the coveted "Bearded" ribbon. That person is… wrcfan! Congrats on your win and thank you to all the participants! You can tell him congrats, or bask in the glory of the beard shots in the contest thread.
The first week of the screenshot contest has come and gone with a few entries already coming in. Be sure to check out the contest thread so you can participate as well!
Birthdays
JR1203 – 3rd
ReccaHanabishiX – 3rd
phlpkrny – 5th
Cash Rob Son – 5th
SGP SGP – 6th
PuffitLikePuffs – 6th
KIA Guardian 77 – 7th
Credits
This update features content written, found, or created by:
Stig Assassin
MrSerrano1105
To give feedback to the staff (complaints or suggestions), please e-mail thespartan1project@gmail.com.
*Title images created by wrcfan